CIRCUIT OF MOROCCO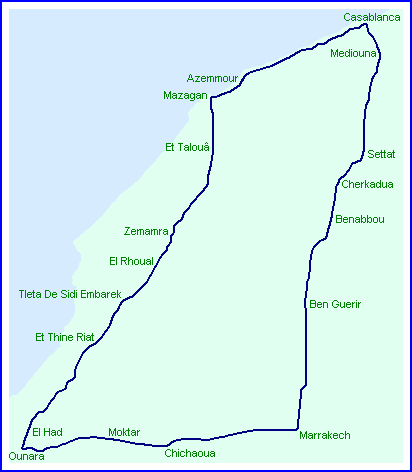 Lenght : 440.862 miles
The circuit from Morocco accommodated the first true motor race in Morocco .
The layout being extremely long, the competitors drove one turn only. On the road, no safety measure was taken. At the time, this race remained in total anonymity, except for the Moroccans of course.

There were variations which are specific to the African countries, in the east, the coastal roads, tortuous and slow and, in the west, the large desert semi plains and their interminable straight lines. For example the straight line which follows the city of Ben Guerir , was more 25 miles long!
Race start and finish were given on the road of « La Corniche » into Casablanca .

For now this layout looks like a rally-raid of our time than one of our road circuits.
The first race take place in 1925, 3 competitors only, but Moroccans were very proud.
Below photographs of the tests which had taken place before the race of 1925 :